Published on May 30th, 2014 | by thezooooo
} else { ?>
0
Which route to take in The Zooooo?
Where are you? Is this a company? An inspirationblog?
Both.
In changing and challenging times you need inspiration, stories and energy constantly.
If we are not at your office, you can always drop by at this website. 
This virtual home gives you also an impression of who we are and what we do.
We hope you can use the inspiration, tips and tricks we give you.
Walk the route you like. If you don't know us, you might want to read 'about' and what other people say. Or do the test. We hope you drop by more often. Or by a season-ticket. Or you want to make an appointment for a MonkeyDo.
But you can also watch a lot of videos. And find tips to keep your company culture valuable.
Or you can ape some presentations. When you are in a MonkeyDo, you can log in at the Play-Testcenter to do the test.
We will add cases regularly.
You can follow us on Facebook, please like our page. The Zooooo 'behind the scenes'.
Do you have something to share, please mail it to us.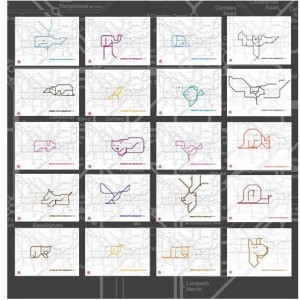 This artwork  "Animals on the Underground" is from the artist Paul Middlewick.
He 'discovered' all kinds of animals on the map of the subway in London. The art of looking sideways at work!