Published on May 12th, 2014 | by thezooooo
Irene as motivational speaker
25 year of working in the marketingworld brings many stories to tell. Irene developed a beautiful marketing-jukebox filled with infotainment and inspiration. "I feel it is very valuable to make people laugh, look at themselves, pay it forward with my experience and give concreet tips & tricks. I am used to perform for larger audiences, but also smaller groups. And all walks of life: from CEO's to 300 farmers to young marketeers from various companies in India.
Photos: Stefan Koopmans.
Some reactions
"As motivational speaker she brings different worlds together: from the circus to research & development, from the zoo to change management, from standup comedy to business development." – Hilde Roothart – trendwatcher and founder Trendslator. http://trendslator.nl
"Great story, learned a lot, laughed a lot, you are like Brigitte Kaandorp (dutch comedian) meets Lidewij Edelkoort. (Trendwatcher" – Hanne Buis (Marketing Schiphol Airport)
"Great talk, lots of inspiration and learnings" – TEDX Ede, The Netherlands
"At our ANVR-Congres Irene made a big impression with a very original, sparkling and inspirational speech about innovation and how to implement it within your company. Not only beautiful ideas and oneliners, but also practical pointers you can use immediately in your work. The audience rewarded her with a 9. Highly recommended!  – Frank Oostdam, CEO ANVR.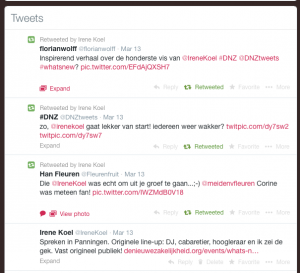 The lectures always have a lot of practical examples, are very visual and she is not affraid to interact with the audience.
The stories of the marketing-jukebox:
About the monkey-mountain and starting life from creativity
Nature as big innovator.
The beeworld is just like a company, with a SHEO at the top.
So You Think You Can Innovate? (let's do the test)
Authentic Inspirational Leadership: yawn, yawn, ofcourse you do, but do you?
Transformation to the new era: great, but how?
To book Irene as motivational speaker: Het Sprekershuys will help you.
To the sprekershuys
Want to watch my TED-talk from years ago (I was a bit nervous!): click the picture!